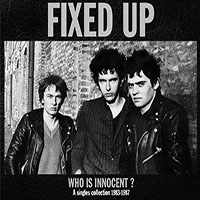 Their legacy was just two LPs and a stack of singles but Fixed Up's punky and soulful garage rock touched people in their native France and all the way around to the other side of the world in Australia.
A lot's been made about the Sydney-Detroit connection, mainly through Radio Birdman and its now fading local musical legacy. The irrefutable fact was that Birdman and its associated influences ruled the Sydney roost in the early 1980s. As true as that was, you can make a strong case for the affinity between Australia and France being almost as important, once the Sydney underground scene started to diversify and expand.
The Franco-Ausstralian link was made when John Needham, chief of seminal Sydney label Citadel Records, started dealing with the likes of Sonics Records in France. Suddenly, there was a pipeline for Australian bands to have their music heard on the Continent - meaning outside the UK where the perpetually jaded music press briefly adopted Aussie arty pop, junkie rock and the swamp sound for a time.