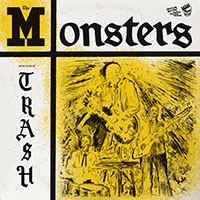 You're Class, I'm Trash – The Monsters (Voodoo Rhythm)
Two weeks to write, a fortnight to record - cynics would doubt both claims - and the eighth album from these Swiss lunatics is testament to what you can achieve when you set out to annoy the living shit out of audiences.
"You're Class, I'm Trash" is unadulterated fuzz guitar abrasion, a boil on the arse of commercially safe and bland music, with occasional diversions into sonic weirdness. And it sounds fucking great.