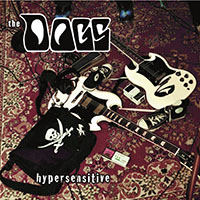 Hypersensitive – The DoGs (Heavy Medication Records)
Here are two truisms: Life is full of great bands that you've heard of but never heard. Hindsight is fantastic because it lets you make up for what you missed the first time around.
This album by the Los Angeles-via-Detroit trio (not to be confused with the French band of the same name) came out on CD in 2002. If you missed it, you're excused because it didn't have massive distribution. It re-appearance as a vinyl LP on Heavy Medication is your chance to make amends.
The DoGs grew up in Michigan in the late '60s – outside the axis of Detroit and Ann Arbor, it must be said – and were on undercards to bands like the MC5 and the Stooges. They made the move from Lansing to the Motor City as its place in the rock and roll firmament began to decline.
Details

By

The Barman

The Barman

Hits: 727