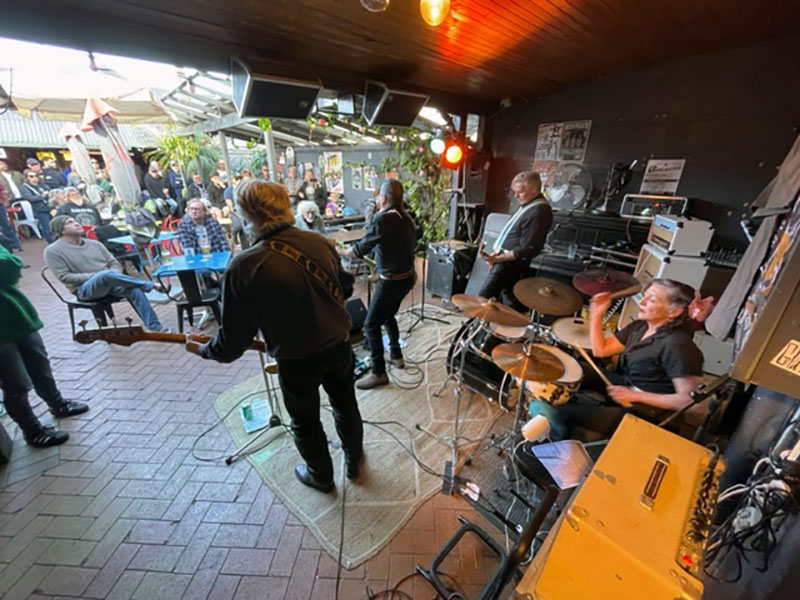 The Silver Dragons.

Support band The Silver Dragons gather onstage. They look cool and so old school with the swagger of classic Southern gentleman (and a lady). The combination of Spurs for Jesus drummer Michelle Kerr and bassist Graham "Hoody" Hood is punchy and solid Michelle is a powerful drummer and does not miss a beat or a hi-hat and is very sharp, and really suits Hoody's solid playing.
The set starts. "She's Out Of Control" has an almost Big Star/Alex Chilton feel to it and nods to the Memphis alternative some with great ringing guitars. It is an ambitious band that covers Lucinda Williams, and we are served a solid rendition of her classic "Essene". it is nearly impossible for any artist to get Lucinda's delivery or her Southern drawl and her vocal range. and in my opinion she's one of the most soulful singers of all time. This version is much more garage rock - and it works
The Silver Dragons are a guitar band and the tasteful and times underplayed interplay between Anton Hughes and with Dwayne Yule is steeped in Americana mixed with slice of Nuggets garage. Their killer version of "Heartbreak Hotel" would have inspired Elvis to return from his grave. Yule is armed with possibly the coolest looking Les Paul I have seen, this side of Vegas.

Chris Masuak and his Australian band Dogs Soldier are in a jovial mood despite the leader's jetlag. He has sussed that this afternoon he is playing to a mix of family faces and those who simply appreciate that he's back. It's a range of fans of all his bands from the late '70s and '80s.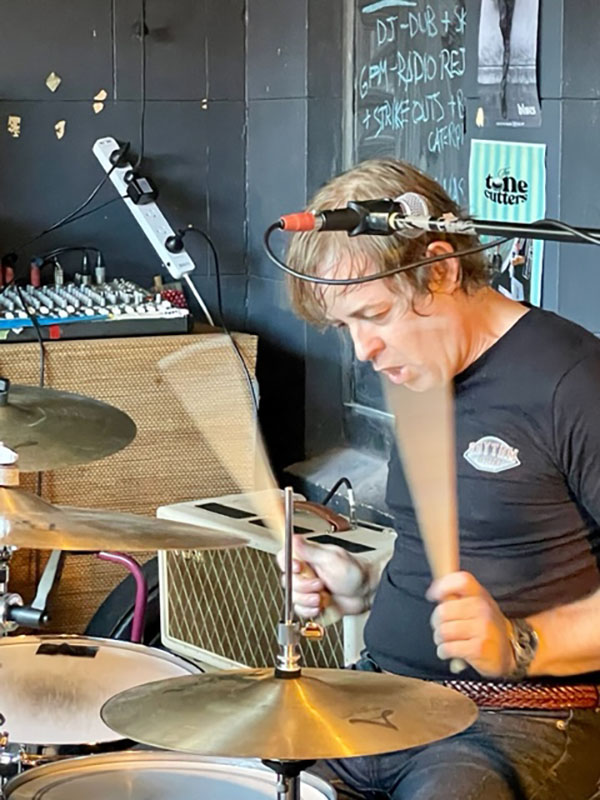 Stuart Wilson driving the Dog.
After a quick sound-check and testing his the PA with a Dean Martin impersonation, Masuak bursts into Radio Birdman's "Hand Of Law". Classic Birdman but probably my least favourite of their songs. That said, it's streamlined by the three-piece with any fat removed. As soon as Chris hits the middle eight, his lead break explodes.
Dog Soldier is made of Stuart Wilson, who is straight off The Crisps' tour, and fellow former Lime Spider Tony Bambach. The tough and solid, no frills rock rhythm section kicks into gear on the new single "Tract Home Chippy" with a weaving, clever guitar hook and solid rock arrangement. "1776" from "Address To The Nation" takes no prisoners with its blistering attack of soaring guitar with the rhythm section bellowing along.
"Gravity" from the "Workhorse" album of a decade ago was the highlight for me. A step away the high powered garage and power-pop, it is a startling blues ballad with overtones of The Shadows crossed with New Orleans. It is a stunning song that moves from folk to blues perfectly and the band really takes off as Mazuak executes a tasteful blues solo with lashings of feeling.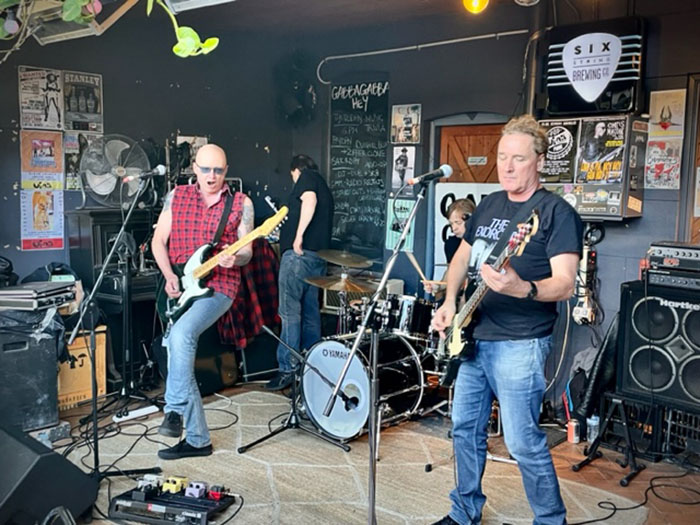 Masuak delivered a mixture of more recent songs and "artefacts" including a tough and stripped down version of Birdman's "I-94", the Screaming Tribesmen's, "Date With A Vampyre" and the Hitmen's "I Don't Mind". all executed with punch and attitude. It's a blistering 70-plus minute set of songs that help defined the underground rock scene for well over a decade.
We are like crows, circulating in the air and searching for morsels on the land below as we reflect on a time gone by when these were the songs we heard at The Trade Union, Tivoli or, for a select few, The Funhouse. Yet, unlike many from that time, Masuak still keeps writing and releasing great records, and making himself sound fresh and relevant