Details

By

DP Muir

DP Muir

Hits: 4142
Masuak and Dog Soldier deliver in Canberra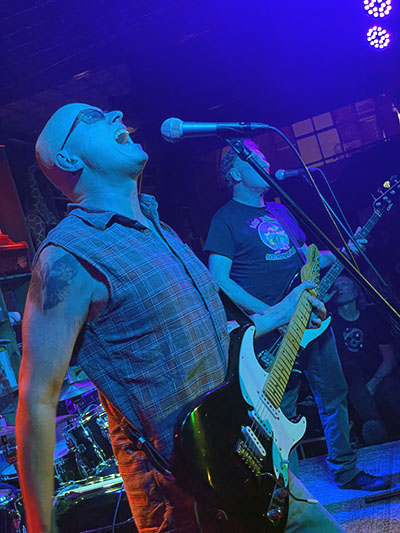 Chris Masuak and Dog Soldier
Il Bruto
Sunday, 28 May 2023
Smith's Alternative, Canberra, ACT


Chris Masuak and Dog Soldier hit the stage for a rousing two hour set after terrific support act, local Canberrans Il Bruto, did excellent work by warming us all up with their versions of many classic songs from 1960s and '70s Detroit bands.


It
was terrific to have an unexpected catch up chat with Chris prior to their gig; the days of the Funhouse, and all his previous band experiences behind him. My enjoyment of his forays in various bands, all true to his own vision of honest modern music has never diminished.
For apart from his incredible skill as co-lead/rhythm guitarist in Radio Birdman when he was still a teen, he went on to co-found the Hitmen with the wonderful and charismatic Johnny Kannis, as well as The Screaming Tribesmen.
The last time I spoke to Chris was post his stint in the New Christs and Hitmen DTK; and pre his departure to Spain to make his name in Europe leading his own bands to a wider audience across the Continent. So this pre-gig conversation was a cherry on the cake.
The skill of Tony Bambach on bass and Stu Wilson on drums, augmenting Chris's exceptional guitar playing, was a total joy. Perfect rhythms, pure thrumming drive throughout each song; and the ability to traverse the best of groove and Detroit based sounds was a trip for the sold-out crowd.
Chris's own virtuosity as a guitarist and his terrific range of original songs was on full display. We all cheered for more.


I conquered a three-day bout of sciatic pain by doing some stretches and then dancing with total abandon for a few songs. Such is the delight that a pure, dedicated and quality trio can deliver to a discerning audience!
Thank you, Masuak! Bravo Dog Soldier! You're all champs for coming to Canberra; so many others don't bother to embrace this passionate regional audience.