Intercept this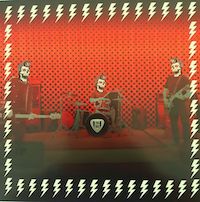 Black Interceptor b/w Bee-Music - 50LgE (Rare bone Records)
Ensconced in sub-tropical Far Northern New South Wales - where the hippies are numerous and the sheep would be scared if they weren't so mellow - 50LgE is a band that clearly likes to do things its own way.
You'd issue your debut single as a 12-inch slice o' vinyl, right? Cheap to ship (not). Although the included download card is a nod to modern technology, that's a lot of vinyl to hold two songs and the run-out groove goes forever. 50LgE have their own DJ cranking garage rock tunes between sets, and also boast their own brand of beer. Now you're talkin'…
First, the intros: This is a garage rock-influenced trio whose number includes ex-The Eastern Dark drummer Geoff Milne, bassist DB (ex-The Tellers - from Brisbane) and guitarist Tone Changer, whose own cv includes a spell in the Psychotic Turnbuckles back when he was a kid. So you know that two of them have had the good sense to get out of Dodge (aka Sydney) and make a tree change.
So to the music and this is a promising debut. "Black Interceptor" kick-starts in a flurry of feedback and hits fifth gear comfortably, on the back of some distorted guitars and a chunky feel. It's a car song. Flip the disc and "Bee-Music" is a sharp guitar instrumental overlaid with a two-part vocal harmony and propelled by a chugging rhythm. A spikey Tone Changer guitar solo backs up the band's citing of Wire as an influence. You could drive your muscle car to this one, too.
There's more recordings in the can so an album should be in the offing. Get your kicks on Route 66 and your copy via the band's Facebook shop.




Tags: psychotic turnbuckles, garage rock, 50LgE, The Eastern Dark, the tellers, bee-music, black interceptor