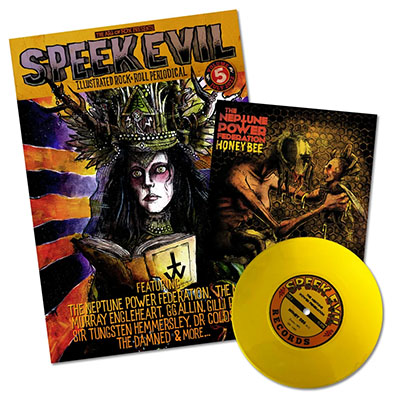 Speek Evil: Illustrated Rock and Roll Periodical (The Art of Fox)
Reviewing what's a visual feast served on paper pages is a challenge at the best of times but who doesn't love a test? "Speek Evil" is neither a zine or a comic – call it a zomic if it makes you happy - because it combines the best of both, and it's chock full of dark imagery and rock and roll attitude.
Which should come as no surprise, as it's the product of the mind and pen of Mike Foxall, late of Nancy Vandal and more lately guitarist in The Neptune Power Federation. Foxall is one of the pre-eminent rock and roll graphic artists of the Sydney underground scene.
He's a member of a club that boasts Ben Brown, Ray Ahn and Glenno Smith, and his imagery adorns the covers of his current band's albums, plus posters and T-shirts for Crapulos Geegaw, King Parrot, Frenhal Rhomb and The Australian Beef Week Show. He's also an animator.
"Speek Evil" is a lavish, full-colour 80-page production printed on high-quality matt paper and is produced quarterly. It plumbs similar cultural depths as "Unbelievably Bad" used to, but with Foxall's own punk rock pre-occupations and peers in evidence. It's up to five editions.