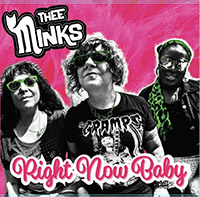 Right Now Baby – Thee Minks (self released)
Philadelphia is a place that's always punched above its weight. Bill Haley, Todd Rundgren, Hall and Oates (yikes) and Pink are among musical offspring of the City of Brotherly Love. And for the fourth year in a row, Philly has more homicides than New York City, a place four times its size, and currently ranks second on the USA per capita Murder League Table.
So here's a recommendation if you're a fan of rough 'n' ready, no bullshit garage rock and roll: Look up Thee Minks. Hook into this album like there's no next week. Go to their Bandcamp and plonk down your credit card number or Paypal handle. Do it right now, baby. Thank you. You've been a great audience. I'll grab my hat and coat.