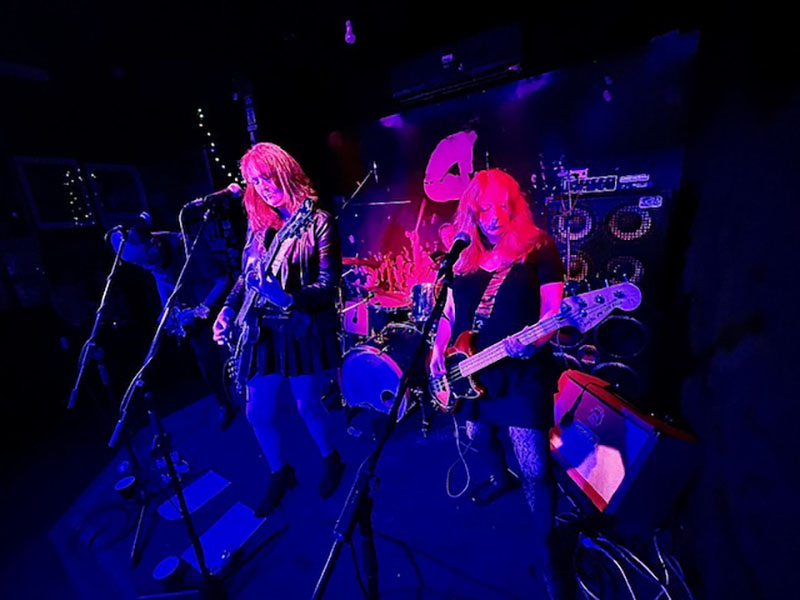 The Jane Does.
That shouldn't have been a surprise. Headliners Rocks were one of the foundation members of Sydney's second wave punk rock scene. They don't play often, usually turning up on the undercard of overseas tourist heritage acts like Richie Ramone.
Today's ridiculously cheap $10 door charge isn't the comparative pittance you would have paid to see Rocks at one of the city's punk pits or their suburban stronghold of Sutherland's Royal Hotel but it's a shock in these inflationary times. A tenner? It's after noon so it can't be an April Fool's joke. It's too good a bargain to pass up.
Openers The Jane Does don't qualify as a "kid band" just starting out - all members have done the rounds enough to qualify for veteran status - but this is only their second official public outing. They're also a lot of fun.
Two guitars, bass and drums and a set sprinkled with beefed-up covers of songs like "Echo Beach" and Divinyls' "Only Lonely" which are gradually succumbing to originals like the strong opener, "So Bright". There's a familial link to the headliners so bassist Joanne Michelle has swiped a cast-off Rocks song, "You Gave Me Nothing", that's another highlight.
Thirty years ago, throwing a Monkees song into your set might would have drawn barbs from the punk pit. (Hey, I would have called out "Play some fucking Stooges" despite being raised on the Prefab Four.) There's no irony in The Jane Does' version of "Pleasant Valley Sunday"; more an appreciation of pop smarts that has most of the room (ageing punks included) singing along.
Drummer Michelle Kerr (Spurs for Jesus, ex-Rumbabas) gives the impression she really enjoys her work and has a quiet smile plastered on her dial from go to whoa. It's a pity her other commitments and living outside of Sydney will soon cut her Jane Does tenure short, because her feels are magnificent. Rebecca Jayne tackles most of the vocals and holds down rhythm, with Matt Alison sprinkling on the lead guitar fairy dust.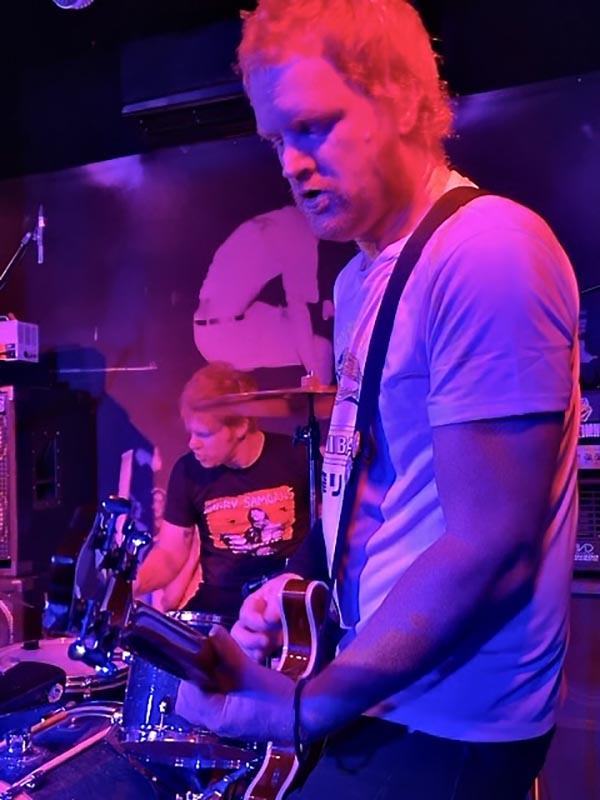 The Strike-Outs.
The Strike-Outs are taking up where their predecessors Evil Twin left off. A duo of guitar-vocals and drums, they are as caustic as a nursing home acid bath. There's a daunting array of effects pedals on stage and they're all used to good effect. Twisted riffs, wah wah and distortion and songs that rarely break the minute-and-a-half barrier.
All they have online so far are some demos but they'll give you the idea. Make sure you see them, too.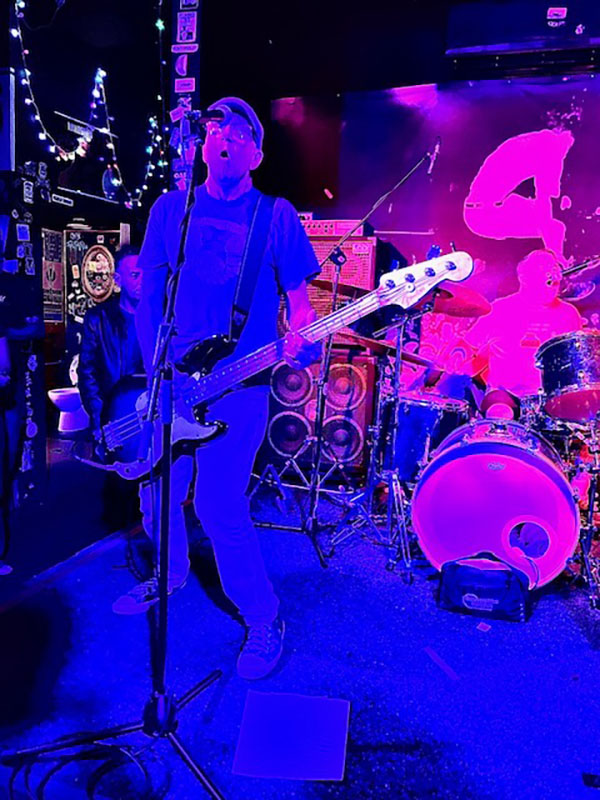 Peter Davie.
Rocks are back to a trio these days with stalwarts Peter Davie (bass) and Bill Posters (guitar and lead vocals) the constants. Didn't catch the drummer's handle but someone said he's ex-Toe To Toe. In any case, he's one accomplished player and to the best of everybody's knowledge, he's never tried his hand at reality TV. The 18-song set's drawn from Rocks' sporadic back catalogue.
"Bombs Away" opens the set - and a barrage ensues thereafter.
For a band that doesn't play often, Rocks are stunningly tight. There's no slamming or pogoing from the audience but the energy is palpable. Rocks gives back as much energy as they get.
"Migraine Headache" is spat out like somebody's just over one, "She'll Be Right" is introduced as one that got away from a record label. Nobody argues the point. "What I Say" is the killer singalong it always was.
The appeal of much of what Sham 69 released will always remain a mystery to these ears but there's no faulting "If The Kids Are United" as an earwig. Rocks do it justice. Anthems? "Your So Boring" must qualify and proves to be the killer sting in the tail of the set.
It's over too soon and there's nobody in the room left not wanting more.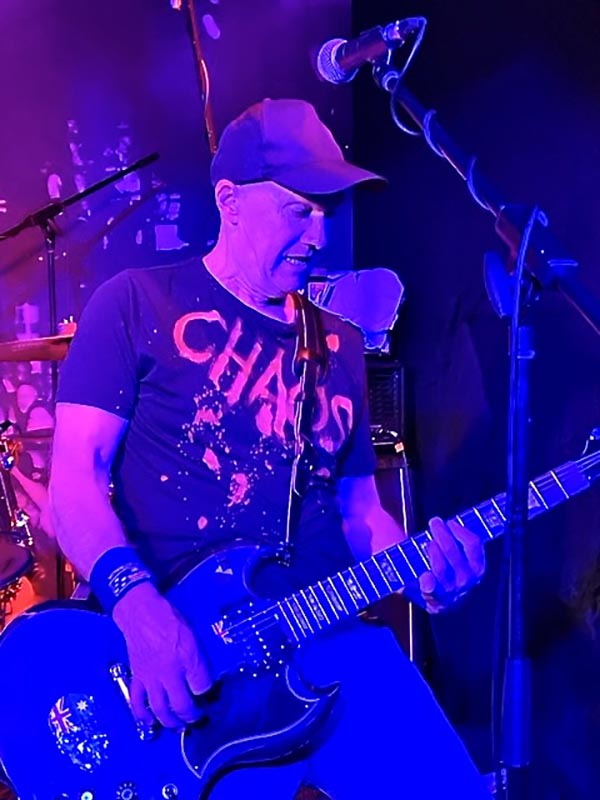 Bill Posters.