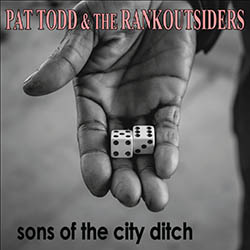 Resurgent Ausitralian label Dog Meat Records is thrilled and proud to release a new album by a resurgent rock 'n' roller and an old friend Pat Todd and his band The Rankoutsiders.
"Sons Of The City Ditch" is the seventh album by LA's finest rock'n'roll band and comes some 36 years after Dog Meat's first dalliances with Pat, back when he fronted the legendary Lazy Cowgirls.
The new album shows that Pat's voice and songwriting have only gotten stronger, and that he's got another killer band behind him, one that mixes classic '70s punk rock roots with country, blues and rock'n'roll in a manner that sits somewhere between "Exile on Main Street" and "LAMF".
Pat Todd will be touring Australia solo, in a double-bill with Mad Macka from The Cosmic Psychos and The Onyas in late 2023. Stay tuned for details.

The new album is highlighted, as usual, by Todd's fantastic songs. A prolific writer with an eye on life in the margins - whether they be in small towns or the big sprawling city he has called home for 40 years - Todd routinely hits the mark where youth and the advancement of age find common ground in alienation and wilfulness.
Details

By

The Barman

The Barman

Hits: 2668