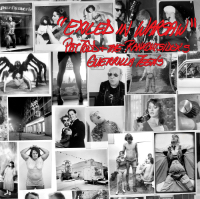 Exile in Warsaw: All Down The Line – Pat Todd and The Rankoutsiders b/w Rip This Joint – Guerilla Teens (Heavy Medication Records)
From a selfish perspective, this is canny timing. The Stones have a formidable new album out and Pat Todd is embarking on a solo tour of Australia. If you're a regular I-94 Barfly you'll know that anything with the band moniker "Rankoutsiders" on it rocks like a motherfucker and this split 45 on Poland's greatest rock and roll label (hence its title) is more proof.
Pat's beefy delivery isn't close to a Jagger drawl but sits just right regardless, doing justice to the loose and limber original. The guitar pairing of Nick Alexander and Kevin Keller live up to the Taylor-Richards combo that came before them. There's no radical re-arrangement evident or needed, just a killer band revelling in playing a great song.
Flip it and it's more Stones circa "Exile", this time from Portland, Oregon. Fiery five-piece Guerilla Teens rip you a new one. Vocalist Deaf Jeff (aka Scott "Deluxe" Drake, ex-Humpers) hangs on for grim deaf as his veteran band runs through one of the Stones' finest boogie moments a few miles per hour faster than the original. The Thunderesque guitarwork is icing on this cake. The mark of a good cover is when it leaves you wanting to hear some originals and this ticks the box.





Details

By

The Barman

The Barman

Hits: 1221